I saw a recipe similar to this from another blog (I forgot the name) and I made a post about "
Layer Your Food
" before so I tried recreating it in my own version.
See my eggplants are so burnt, I had to peel top burned part with my fingers. I used an eggplant which is more rounder in shape and cut them as you can see in the picture. I believe this one is called the American eggplant and the flavor is very gentle. I covered them with egg and bread crumbs. I think it is better if you will just use starch which we don't have right now.
I used a baking pan to place the cooked eggplant so the oil will be dripping on it. Then I layered it first with mayonaise, then spinach, cheese, bacon jam, and minced tomatoes.
I had to try the smallest one. I don't like cheese to overpower the flavor so I only put half the slice on mine and I put whole slices on some because my food taster loves cheese so much.
It was good. The bacon jam did the trick on this one (based on my food taster's opinion). I got it for free in exchange for a review. Here is my post about it,
Skillet Bacon Jam
but I believe you can use those bacon bits that you can buy at the grocery store or probably the real bacon will do too.
I'm linking with
Simply Link
Delightfully Inspired
,
Nifty Thrifty
,
Real Food Wednesday
,
Let's do Brunch
and
Full Plate Thursday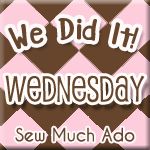 Please don't forget to enter my giveaaway, it's open worldwide.
http://momdaughterstyle.blogspot.com/2011/09/beanie-designs-review-and-giveaway.html